Willow Workshop - 25th June 2022
We were delighted to see the return of In Person workshops - Zoom has been wonderful - but to welcome real live people into a room and then watch them produce 3 wonderful pieces of willow work, was just magical!!!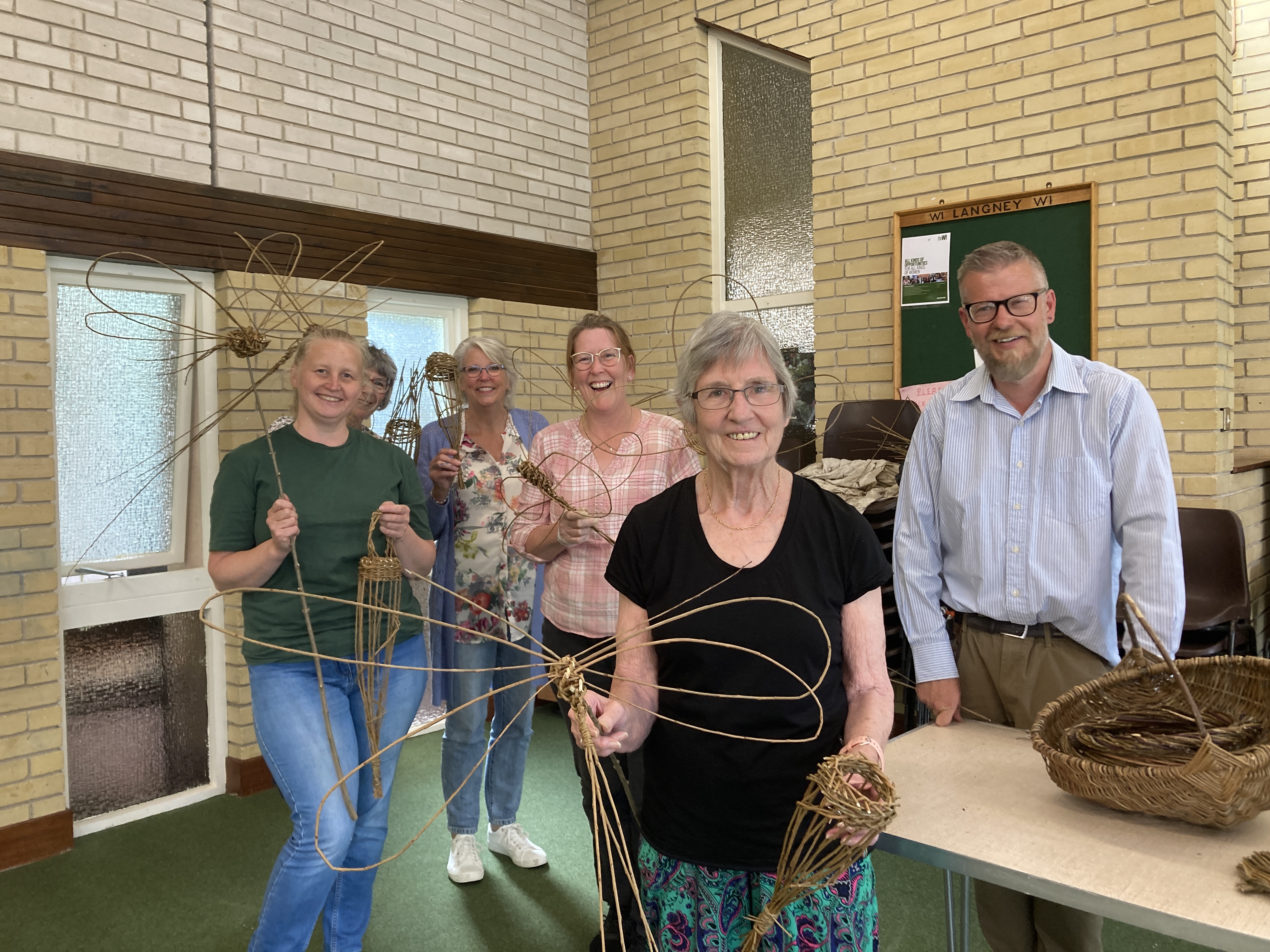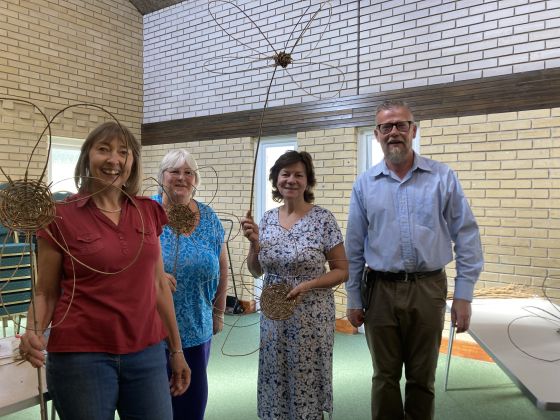 Thank you to Danny Manning - our wonderful tutor and to our fantastic students.
SHOPS OFFERING A DISCOUNT TO ESFWI MEMBERS
Please note that a current WI Membership card will need to be presented in order to obtain any discount.
Closs and Hamblin (formerly C&H Fabrics)
A 10% discount is offered to any member who can show a current membership card at any of their branches (Eastbourne, Brighton, Winchester, Tunbridge Wells, Canterbury, Chichester, Guildford, Horsham and Windsor). You can also qualify for the discount on their website www.candh.co.uk by quoting the code WI99. The discount is also available in the coffee shops.
BRIGHTON
Fiveways Arts & Crafts, 261 Ditchling Road, Brighton BN1 6JH 01273 551600 www.fivewaysartsandcrafts.co.uk.
10% discount
Cass Art, 21 Market Street, Brighton BN1 1HH 01273 733896
10% discount. Also offer a rewards card scheme which can be used in conjunction with the 10% discount.
EASTBOURNE
Little Miss Sew n Sew, On-line only 01323 483947 www.littlemisssewnsew.co.uk.
10% discount online using the code WI10. This excludes workshops.
LEWES
Lansdown Health Store, 44 Cliffe High Street, Lewes BN7 2AN 01273 474681
5% discount
Riverside Flowers, 2 Station Street, Lewes BN7 2DA 01273 488820
10% discount on anything purchased in the shop.
The-stitchery, 12-16 Riverside, Cliffe Bridge, High Street, Lewes BN7 2RE 01273 473577
10% discount on all products except books, patterns and sewing machine servicing
NEWHAVEN
The Patchwork Cat, 3 Newhaven Square, Newhaven BN9 9QS 01273 516067
10% discount in the fabric shop and also for the classes
SEAFORD
Foam and Fabrics, 21-23 Broad Street, Seaford BN25 1LS 01323 893716
10% discount when spending over £10
UCKFIELD
Lansdown Health Store, 35 High Street, Uckfield TN22 1AJ 01825 764436
5% discount
If any members know of any other shops who are prepared to offer WI members a discount, please let Judy know at ESFWI Headquarters 01323 442592 hq@esfwi.org.uk.
ESFWI Federation Annual Meeting - Eastbourne
March 23rd 2022 was a red letter day - as we returned to having our first face to face Annual Meeting in 3 long years, and what a meeting it was!!
A total of 375 members congregated at the meeting, and the Centenary Banner and Bunting were there too. The whole meeting was lively and there was just a lovely warm atmosphere - when old friends were reunited and new friends were made. The HQ team of Vicky and Judy had done us all proud with their organisation both before and during the day.
The venue was excellent and we were treated to some rather amusing stories of the trials and tribulations of being a WI Judge from the Super Duo of Sue Davies and Avril Parrini. They provided a super warm up act to our main speaker who was Eddie the Eagle. His energy and enthusiasm was infectious, and the feedback from members was that he was really entertaining.
Of course, this being WI - we had a raffle and we had an amazing response to our appeal for baskets and for those who love a jewellery bargain, the ACWW had come up trumps - so there were lots of opportunities to spend a bob or two. We also had representatitives of all of our sub committees who were there to talk to members about their plans for the future.
Plans are already afoot for our next years meeting which will be on Wednesday 29th March at The Winter Garden - we strongly advise you to buy your tickets early. There will be the return of all the old favourite stalls, but also we are looking to have some new additions too.
Here's just a small selectoin of the photos we took - they probably don't really do the event justice - but maybe it will give a flavour of the day.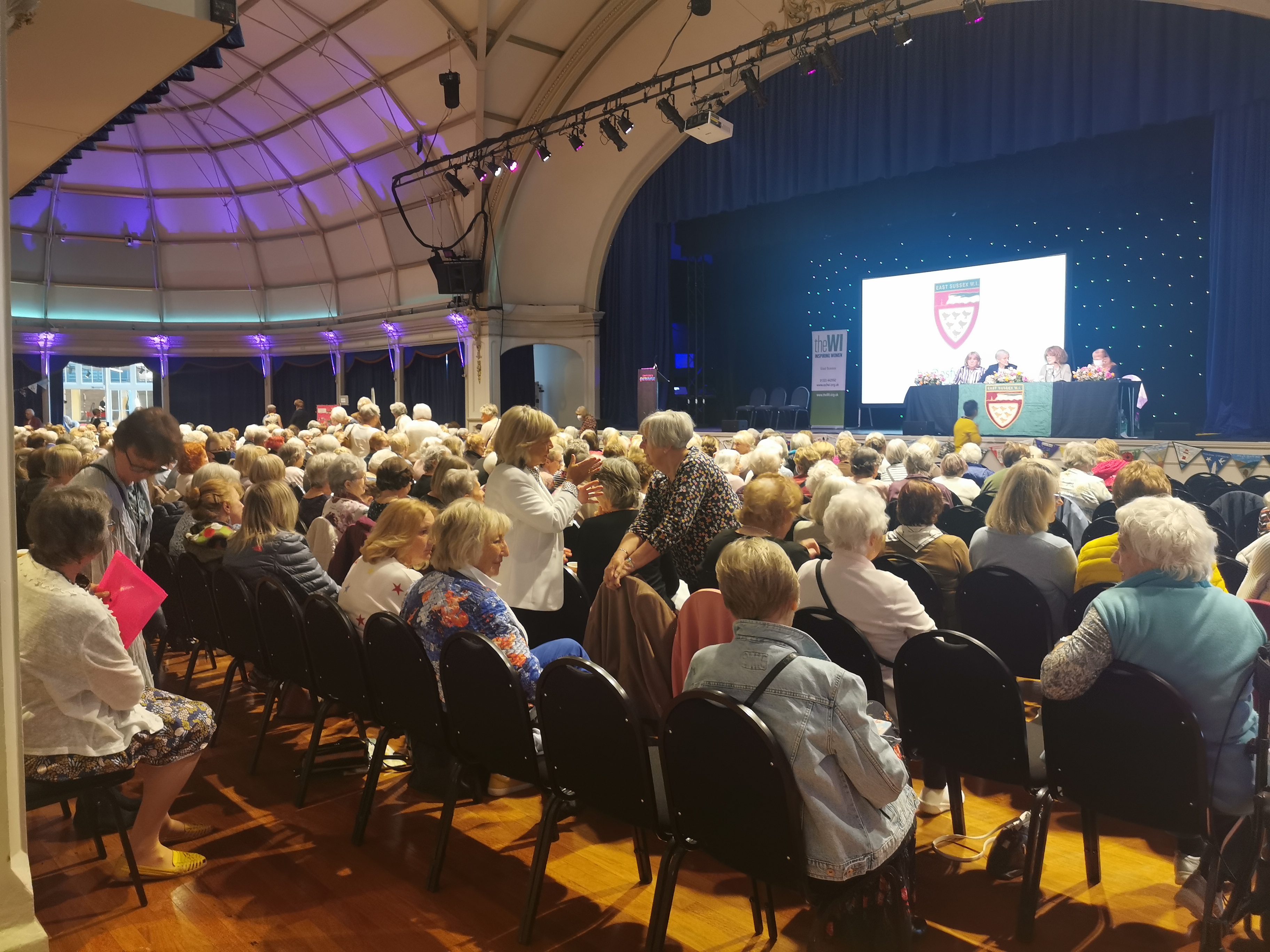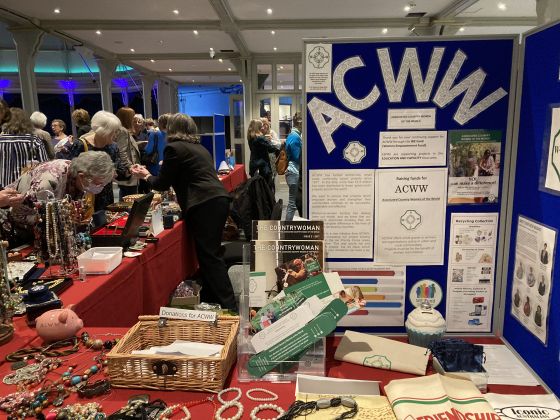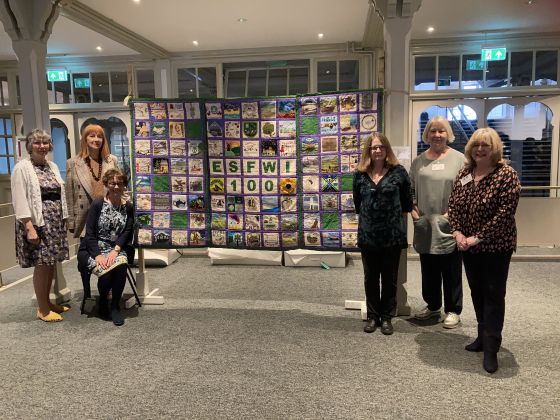 Subscriptions 2022/2023 – These have been set at £44.00 with the breakdown as follows: WI £21.60, Federation £10.30, NFWI £12.10. From April 2022 new members will pay a pro-rata subscription depending on the quarter in which they join as follows:
| | | | | |
| --- | --- | --- | --- | --- |
| Date of joining 2022/23 | Total subscription | WI share | Federation share | NFWI share |
| 1 April-30 June | £44.00 | £21.60 | £10.30 | £12.10 |
| 1 July-30 Sept | £33.00 | £16.20 | £7.73 | £9.07 |
| 1 Oct-31 Dec | £22.00 | £10.80 | £5.15 | £6.05 |
| 1 Jan-31 March | £11.00 | £5.40 | £2.58 | £3.02 |
There is no pro-rata rate for dual membership who need to pay £21.60 at any time during the year. ESFWI will send a quarterly invoice for membership fees in the postings in April, July, October and January. If you require any further information, please contact ESFWI HQ.